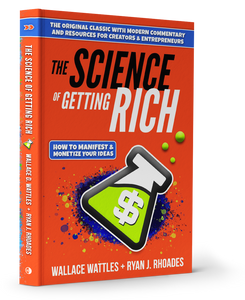 The Science of Getting Rich: How to Manifest & Monetize Your Ideas - Signed 2022 Edition
Regular price $22.95 Sale
Want to bring your ideas to life?
The Science of Getting Rich is the book for you.
With dozens of resources, updated language for modern readers, and extensive commentary on the creative process by Ryan J. Rhoades, this new edition of Wallace Wattles' classic is an indispensable guide to developing a richer, fulfilling, and creative life.

This isn't about getting rich quick — it's about breaking free from the endless distractions and mindsets that keep you from awakening to the rich life you desire and deserve.
This edition will be personalized for you and signed by the author!